A light in the darkness, RENEW's success in Bumthang
12 May 2017
---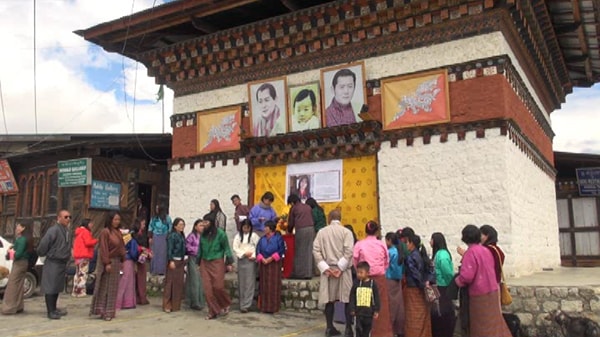 The members and the beneficiaries say, coordinated effort and cooperation are the building blocks of their success story.
"Whatever happens with the RENEW community here, good or bad, I render my support every time. Even if I have a job to run my taxi, I sacrifice my day in times of need. In fact, I think it's crucial that men should also take part in such a cause because we can also understand the problems faced by the women," said Namgyal Wangdi, a member of RENEW.
To pay their tributes to RENEW's founder, Queen Mother Sangay Choden Wangchuck on Her Majesty's birthday, members and beneficiaries of RENEW community in Bumthang gathered at Chamkhar town. They came from all walks of life with different stories to share, but they are bound by their will to help each other.
"My group, DAISAN is a youth group that works for RENEW to promote the goals and objectives RENEW has for the youth of the country. With our strong efforts to create awareness, topics that used to be taboo at some point like sexual health, reproductive health, HIV AIDS and monthly menstruations we have overcome the awkwardness and the stigma that comes with the topic. Because of that, I can proudly say that the society I live in, my school and the community has become a better place for growth and learning," shared a Youth Volunteer, Sonam Pem Tshoki.
The success, according to the RENEW Coordinator in Bumthang, Pema Choki, is because of the support from different stakeholders.
"Bumthang Dzongkhag boasts of committed members from all walks of life like taxi community, business community, health sector, law enforcement agencies and of course, Dzongkhag sectors. It would not have been possible without the support from each and every stakeholder in the region."
The RENEW community in Bumthang has their own cooperative through which the beneficiaries produce and sell textile products. About 20 of them are undergoing a training currently.
Besides, the members also reach out to rural communities by advocating on saving culture and sensitizing health issues among others. Such activities are helping educate the rural people and for some, it's about hopes and aspirations.
"I was struggling in my life before, not knowing what to do. After I came in contact with RENEW and got a tailoring training, it not only helped me but also gives me an opportunity to share my skills and knowledge to my friends and children," says Lemo, one of the beneficiaries.
The RENEW community in Bumthang was established in 2011 and it continues to grow by igniting light in the lives of many individuals.