PRESS RELEASE
17 Oct 2022
---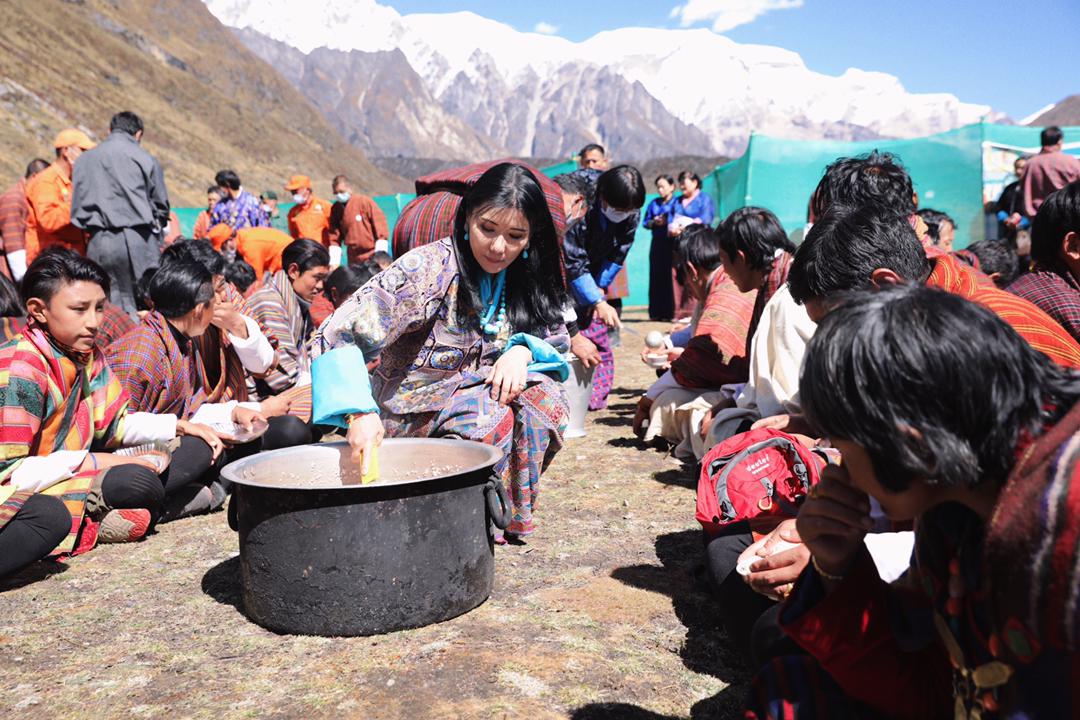 HER MAJESTY THE QUEEN MOTHER GYALYUM SANGAY CHODEN WANGCHUCK, THE UNFPA GOODWILL AMBASSADOR TO BHUTAN,
TOURS LUNANA TO ADDRESS PRIORITY PUBLIC HEALTH & SOCIAL ISSUES
 Her Majesty the Queen Mother Gyalyum Sangay Choden Wangchuck tours Lunana Gewog under Gasa Dzongkhag from 16th to 21st October 2022 as a part of the High-Level Advocacy (HLA) tour to address Priority Public Health and Social Issues. Her Royal Highness Ashi Eeuphelma Choden Wangchuck, the Health Minister Lyonpo Dechen Wangmo, the officiating Secretaries of the Ministry of Health (MoH) and Ministry of Education (MoE), and officials from the collaborating ministries and agencies accompanied Her Majesty the Gyalyum. The HLA tour to Lunana is a collaboration between the UNFPA, MoH, MoE, RENEW, and the Gyalyum Charitable Trust.
 Her Majesty the Gyalyum addressed the public of Lunana at the gathering held at the Thanza ECR (extended classroom) Centre on 17th October 2022. Her Majesty's address stressed the timely utilization of health services to improve the health and well-being of mothers and children, the importance of cervical cancer screening, prevention of STIs and HIV and AIDs, priority youth issues and challenges, and domestic violence. The Health, Education, RENEW, and UNFPA officials interacted with and educated the Lunaps on communicable and non-communicable diseases, the importance of education, Gender Equality, Protection of Women and Children's rights, and the Prevention of all forms of Violence, Sexual and Reproductive Health, and Maternal Health Care. Her Majesty the Gyalyum hosted a tokha (lunch) for over 500 locals who attended the public gathering. 
 Her Majesty the Gyalyum will grant an audience to students and teachers of all three primary schools of Lunana on 18th October 2022 at the Thanza Extended Classroom (ECR). The students and teachers will be sensitized on topics such as Menstrual and Personal Hygiene, Adolescent Health Issues, the Importance of Education, and Gender Equality, followed by a parallel meeting with the teachers, gewog officials, and civil servants. Her Majesty the Gyalyum will award soelra to the schools and students and host a tokha (lunch) for the students and 40 civil servants of the Royal Government of Bhutan. 
 The advocacy tour provided an opportunity for the people of Lunana to undergo General Medical Check-ups and Cancer Screening by a team of Health Professionals consisting of a surgeon and a gynaecologist. Patients with serious medical conditions were referred to the Jigme Dorji Wangchuck National Referral Hospital for further assessment.
 As the UNFPA Ambassador to Bhutan for over 20 years, Her Majesty the Queen Mother Gyalyum Sangay Choden Wangchuck continues her efforts to advocate for public health and social issues in the country. The Ministries and agencies involved in the HLA tour to Lunana express their gratitude to Her Majesty the Gyalyum for the extraordinary guidance and leadership, and for making the visit to one of the most inaccessible Gewogs a success.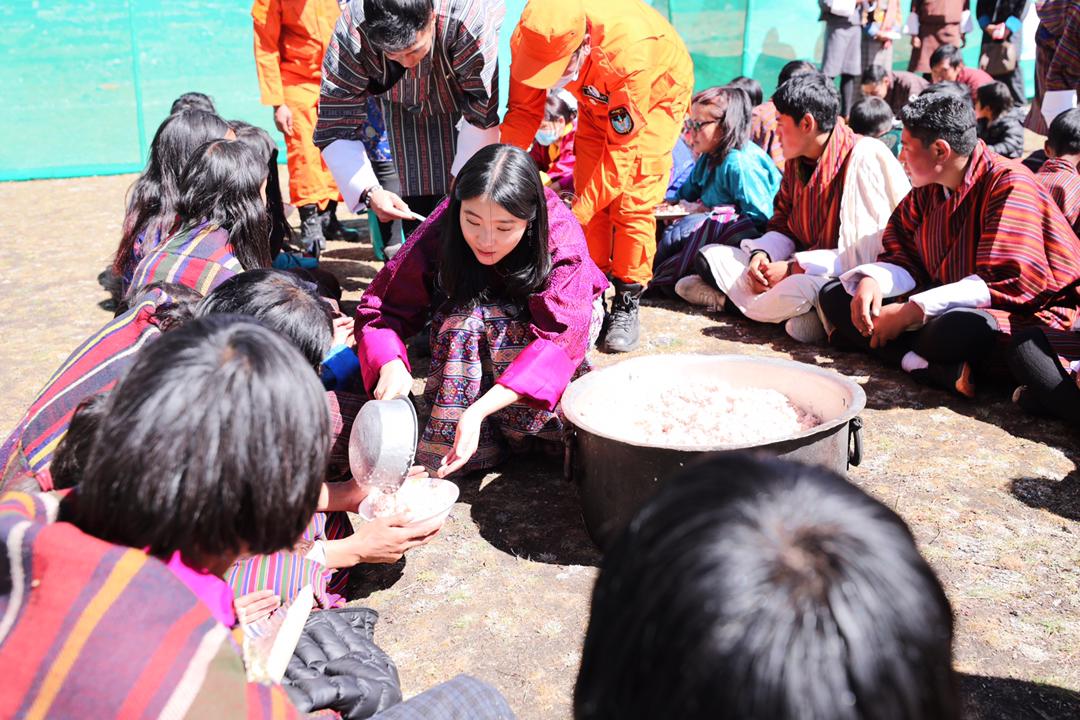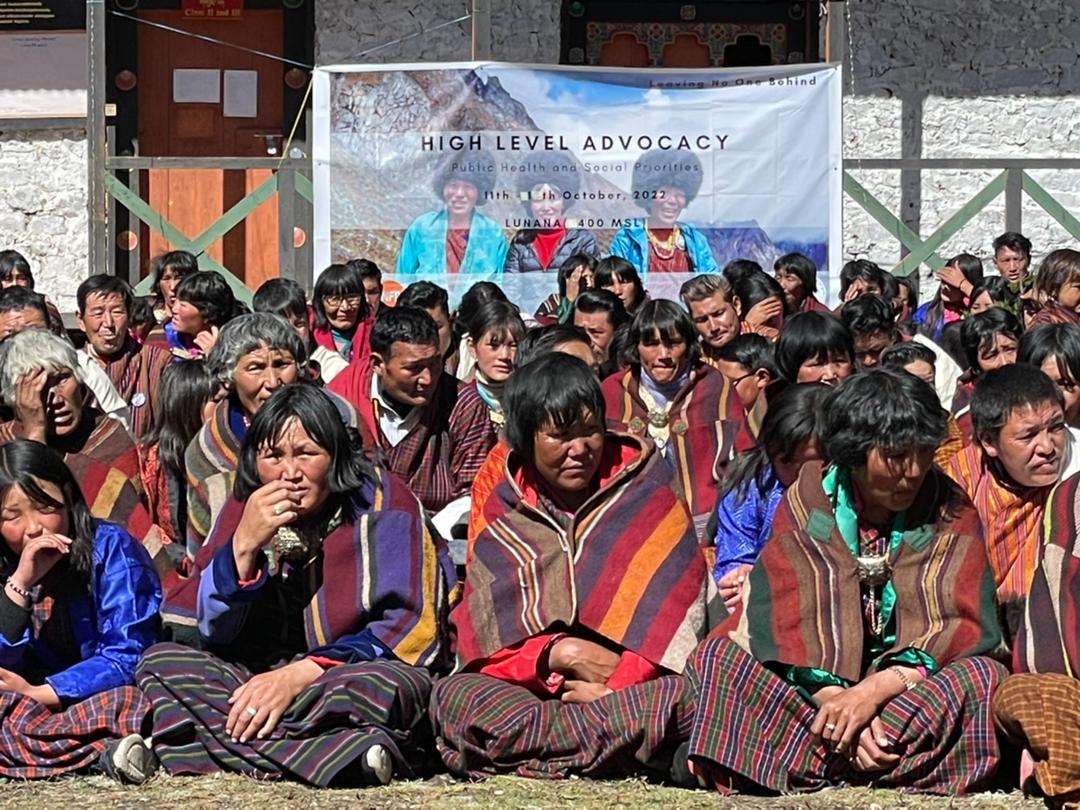 Office of the Gyalyum Charitable Trust